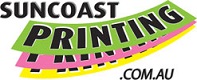 About Suncoast Printing
About our about beginnings, We started under a house in 1976 and moved to the place we are currently in 1980. We have been servicing Caloundra and surrounding areas for over 40 years. While over the years the products and technology may have changed, we continue to provide outstanding value and customer support.
Why use Suncoast Printing you may ask? Do you need an experienced commercial printer? Do you need a local business on the Sunshine Coast. We have a small team of friendly and experienced staff. At Suncoast Printing we pride ourselves on always aiming to provide the best customer experience possible.
We have staff that have experience well in excess of 100 years. Our Friendly staff have the skills and knowledge to provide you with the professional and high standard of printing that you should expect.
While we create professional products and deliver professional services.  We can still give you that small business service, that is famous on the Sunshine Coast. Suncoast Printing is a community minded small business, proudly supporting CleftConnect. Do you need someone who is friendly and approachable and willing to go that extra mile to meet your requirements, or budget. Why don't you come down and have a chat with us today? At Suncoast Printing we have all your printing needs covered on the Sunshine Coast, Caloundra.